Digital & Strategic Marketing
We are experts in developing and managing ROI focused digital marketing strategies and campaigns that drive online revenue growth and raise brand recognition.
First we LISTEN, then we PLAN and then… we DELIVER!
Whether you are a new business, launching your first website, or an established brand who needs to increase online revenue, Verve is able to plan a digital marketing strategy that focuses on your key objectives.
We are experts in developing multi-channel digital marketing campaigns for websites with local, national or international reach. Our clients vary across a wide spectrum of industries each with a variety of targets and objectives.
Our approach to your digital marketing strategy dedicates a lot of resource to the analysis and understanding of your brand, business, products/services, customer demographic, target reach and competition.
Our methodical planning and strategising, before embarking on your campaign, are what proudly sets us apart from many agencies. No objectives are too big for us, and although we are realistic when aligning targets, we often thrive in the deep end of challenging environments – what can I say, we are powerful swimmers!
Search Engine Optimisation

Developing a Search Engine Optimisation campaign that caters for Googles 200+ ranking signal algorithm is no easy task, luckily for you, we at Verve are experts in doing just that and are proud of our client's results. We eat, sleep, optimise, repeat!
Pay Per Click Advertising

Our PPC campaigns are finely tuned revenue generators that provide sales or enquiries at a targeted cost per acquisition within a set ROI target. They can provide instant business and can be tuned to align with the seasonal behaviours of your audience.
Strategic Marketing

Your customers are your biggest asset, but how much do you really know about them? Our data driven strategic marketing helps you to target your customer based on their behaviours and tendencies helping you to increase sales and customer retention. Read more about our Strategic Marketing Service.
Our Multi-Channel Digital Marketing Solutions
On Page Search Engine Optimisation
Technical SEO
Page Speed Optimisation
Link Building
Content Marketing
Landing Page Optimisation
Local Business SEO
Email Marketing
A/B Split Testing
Customer Profiling
Customer Behaviour Analysis
Heat Mapping
Abandoned Cart Optimisation
Google Adwords (Text Ads)
Google Display Network Advertising
Google Shopping
Facebook Sponsored Ads
LinkedIn Advertising
Outreach
Social Media Strategising
Blog Writing
Press Release Content Creation
Content Optimisation
Strategic Marketing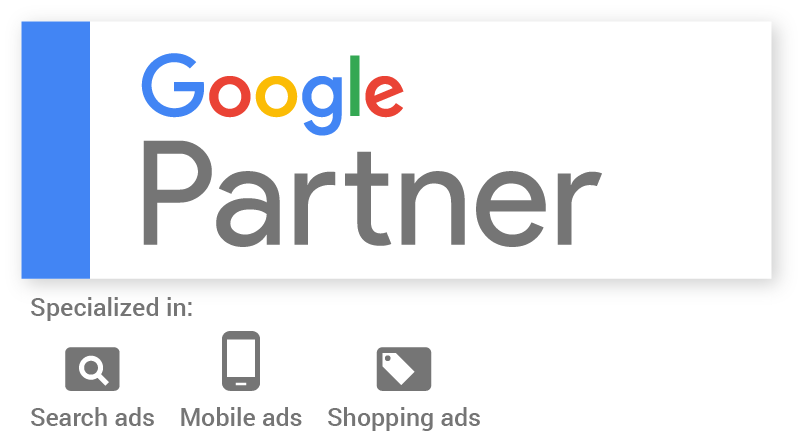 Your Google Partner Certified Agency
As a Google partner service agency, we are certified, through regular exams, and accredited by Google. Our accreditation backs up our expertise in the build, management and optimisation of Google Adwords accounts and our results speak for themselves.

We are real digital geeks, following new digital marketing trends, and increasing our knowledge base at every opportunity. Put us to the test, we thrive in challenging digital environments and are ruthless in our approach to improving your business's return on investment.
Driving Magento eCommerce Sales

Our digital marketing experts know Magento like the back of their hand. We specialise in optimising Magento products, and their sites in general, for better performance in search engines resulting in an increase in sales and online revenue.
Increasing WordPress Enquiries

For WordPress site owners who provide services, our service-orientated campaigns will help position your website in front of customers who are looking for your services right now.
Understanding Your Audience

Your audience data is your key insight into the behavioural tendencies of your customers. Knowing more about your customers will help target campaigns more effectively, increasing the efficiency of your marketing campaigns.
WANT MORE SALES OR ENQUIRIES THROUGH YOUR WEBSITE?
A quick chat with us can reveal whether you are maximising the potential of your marketing activities
CASE STUDIES
Our results speak for themselves. Here's what our clients have to say above us...
HAPPY CLIENTS
Mike is genuinely passionate about his craft and has made a significant difference to our business. Through his good work and knowledge of SEO and B2C digital marketing techniques our search engine rankings are better than ever and continue to improve month on month. I'd recommend Verve to any organisation seeking results from their online campaigns. Always ready to receive and give quick feedback, they are a valuable and reliable partner to our business.
Organic Traffic Growth From Launch
175.86%
Average Monthly Organic Traffic Growth
18.77%
Google Adwords Conversion Rate
11.34%
Pat Dixon - Group Marketing Manager
TG Group
Unlike other agencies we have worked with, Verve offers a very personalised approach to our digital marketing needs, meaning that they have been able to tailor our campaigns to target potential customers effectively and to do so within a budget. If we could do it better ourselves then that's what we'd be doing! We just think they can do it better and have achieved an Impressive ROI to date in return.
April 17 - Apr 18 vs Apr 16 - Apr 17 Organic Traffic Growth From Launch
26.77%
Charles Woods - Managing Director/Owner
Woods Of Shropshire
We have been using Verve for our e-commerce website and digital marketing for a number of years now. Website traffic and revenue have continued to grow year on year at a pleasing level. We are kept regularly updated with marketing activity, and any questions we have are always quickly answered. We're confident that Verve will continue to keep up with the latest digital marketing trends to help us continue our websites current growth.
2017 vs 2016 Ecommerce Sales Growth
33.73%
2017 vs 2016 Ecommerce Revenue Growth
18.58%
Will Ruff - Sales Manager
3JC Ltd